Sat, 27 Mar 2010
I'm pleased to announce that version 0.4.0 of the Fedora Community dashboard has just hit production. Along with the usual batch of bugfixes, this release contains a new 'Statistics' section that contains metrics from a variety of different pieces of Fedora Infrastructure.
Thanks goes to Ian Weller for the wiki stats, Seth Vidal for the torrent stats, and Matt Domsch & Jef Spaleta for the map generation code. I ended up writing the updates metrics, package stats, and users/mirrors widgets. Enjoy!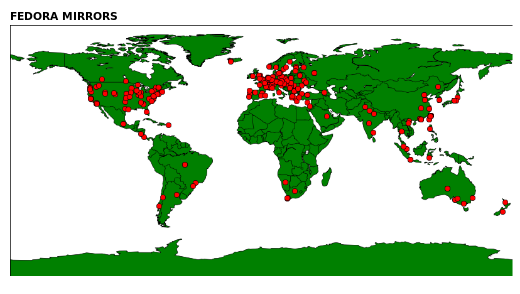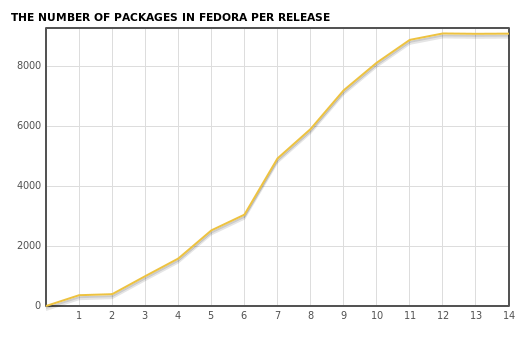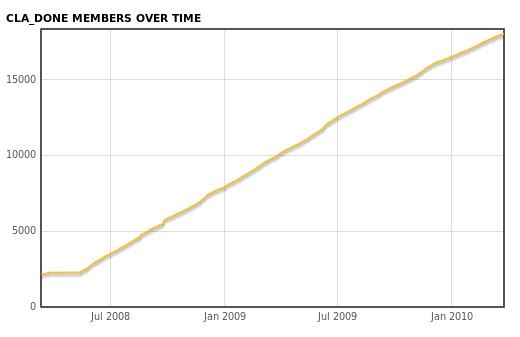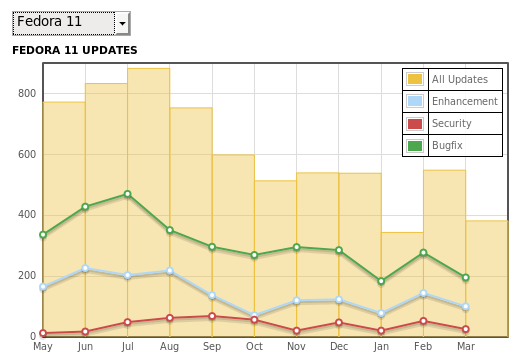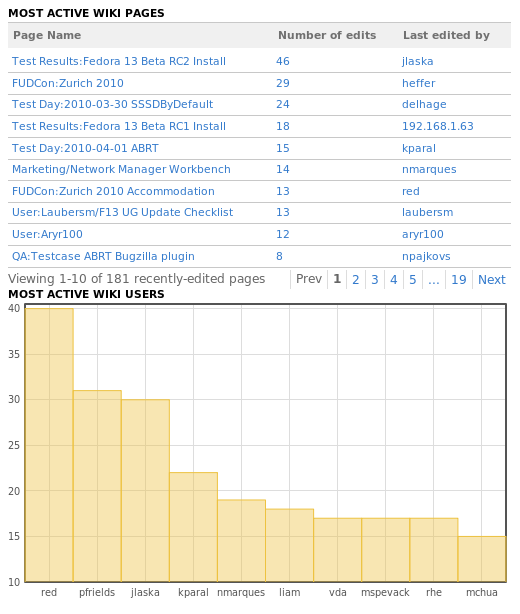 posted at: 03:48 | link | Tags: Fedora, code, metrics | 8 comments
Posted by Jef Spaleta at Sat Mar 27 04:26:23 2010

Rock! I love you guys. I wish I had a better map generator than the matplotlib to offer you for the heat map. You could look at turning on the bluemarble sat-photo background on the maps.

-jef
Posted by Máirín Duffy at Sat Mar 27 15:35:40 2010

Luke, Seth, Ian, that is damn sexy!

(I do have a couple CSS patches for you, I see a couple missing classes causing spacing issues :) )
Posted by nelson marques at Sun Mar 28 02:48:01 2010

Great job accomplished. I bow before such nice work.
Posted by susmit at Sun Mar 28 02:59:57 2010

Or you can look for osm api (I can help with that if needed) for the map. The licence is cc-by-sa and we already use it for ambassadors membership map.

https://fedoraproject.org/membership-map/

I shall try and look if membership maps for all groups in form of a drop down can be added there too.
Posted by Cleveland Browns Jerseys Custom Name at Wed Nov 11 08:57:30 2015

I want to buy a colleague said, that time will be introduced over the bag of good quality, very beautiful, I like, the price is cheap no color, the seller service attitude is great, logistics quickly bag of good quality, the price is cheaper, the size and quality of description is consistent style, is on the grade, very fine, I'm like oh good quality bag, looking very on the grade, the size is right, the back is very nice, very convenient to travel back, very tide , it is like the bag of good quality, good style, color is very positive, it is like it, friends have asked where to buy, already recommended to friends bags of good quality, style is very atmospheric, very careful workmanship.
Cleveland Browns Jerseys Custom Name http://h2shoponline.com/PeanutSack.aspx?ajBlMDIwZDM3OGI5YzhjNzE.html
Posted by svetkakreat at Fri Apr 6 16:26:36 2018

A good thing